SHREVEPORT, La. (KTAL/KMSS) – The National Weather Service has extended the Flash Flood Watch through 7 p.m. this evening for all ArkLaTex counties and parishes. Flash flooding isn't expected to be widespread, but heavy rainfall in some areas could bring isolated flash flooding of roadways, creeks, and areas with poor drainage mainly during the afternoon and evening.
We do have light rain moving south to north across the region this morning. Given there won't be much if any thunderstorm activity through 11 a.m. no flash flooding is expected this morning. Take an umbrella for any outdoor plans today.
The National Hurricane Center is monitoring a disturbance in the Gulf Of Mexico for potential development. They give it a medium chance (40%) of developing into a named system (Ana or Bill) in the next 48 hours. It is this disturbance that is sending bands of tropical moisture into the ArkLaTex which will result in the potential rainfall again today. Regardless of development, this will likely stay west of us this weekend as it moves into central Texas.
Rain will remain light and scattered through the morning, and similar to yesterday we are expecting bands of rain and thunderstorms to develop along the coast and then move into the ArkLaTex. This development will occur by the late morning with coverage of rain and a few isolated thunderstorms highest through the afternoon and evening. Some of this rain will continue after sunset. There is a chance for severe weather mainly south of I-20 where the Storm Prediction Center has a 'marginal risk' for a brief tornado (this will not be a widespread threat today).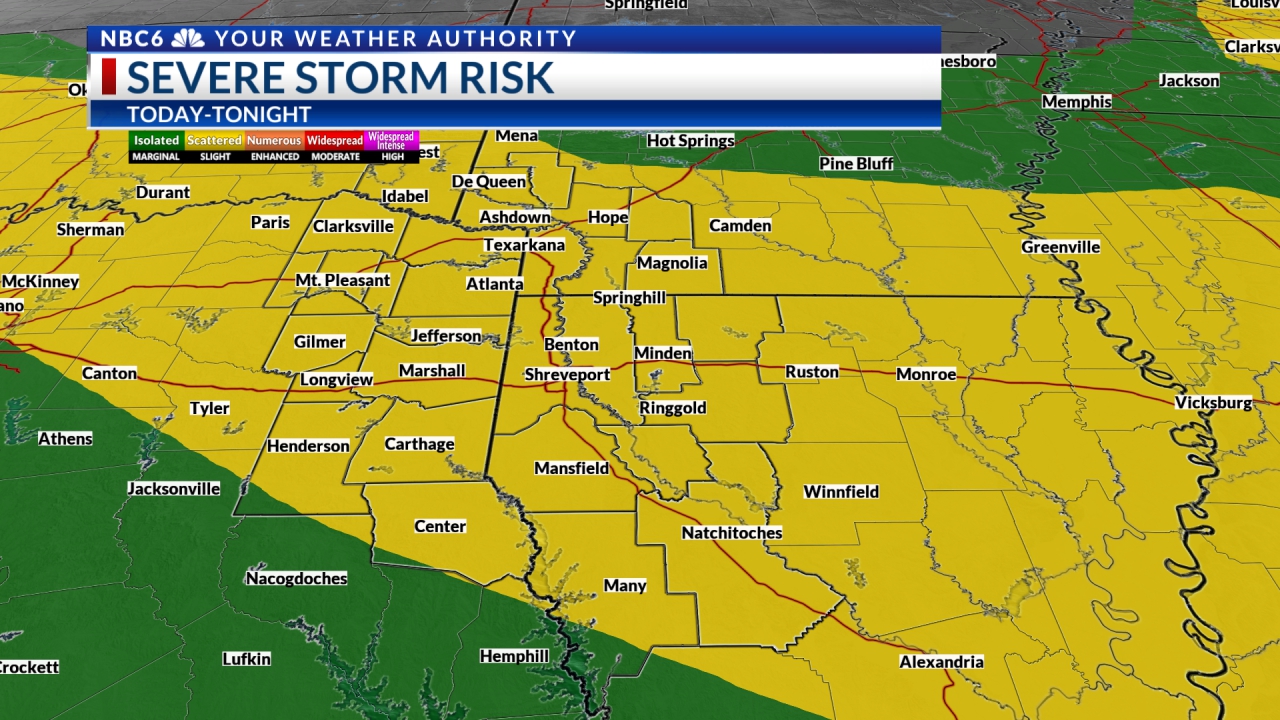 Temperatures will be identical to what we've experienced the past 2 days. We will start out in the upper 60s and low 70s, with highs headed towards 80 degrees in most areas. The humidity will be very high due to the Gulf air. Wind will be breezy at times, gusting out of the southeast at 20 to 25 miles per hour.
We will have some major improvements this weekend. High pressure strengthening to the east of the ArkLaTex will nudge this wet weather pattern further to the west. There will only be a slight chance of a rain shower Saturday across east Texas. We should see more sunshine across Louisiana and Arkansas. Sunday's forecast does not include the chance for rain. Weekend highs will be in the mid-80s with humidity staying high due to the wet ground from all the recent rainfall.
Even though we won't have rain, lake and river levels will continue a slow rise this weekend. You can view the latest levels at: https://www.arklatexhomepage.com/weather/river-levels-and-forecasts/
The warm and dry weather will continue next Monday and Tuesday. We may see a few scattered showers and storms return Wednesday/Thursday, but there doesn't appear to be a threat for any heavy rainfall with this activity during the middle of the week.
---
Get exclusive severe weather details on storms as they approach your area by downloading the Arklatex Weather Authority app now available in the App Store and Google Play