(KTAL/KMSS) – A line of thunderstorms continues to move east and has moved out of the ArkLaTex Wednesday evening. Now that today's severe weather threat is over, we turn our attention to what could be a much more significant severe weather outbreak Friday evening and Friday night.
Live weather update Wednesday 8:30 pm: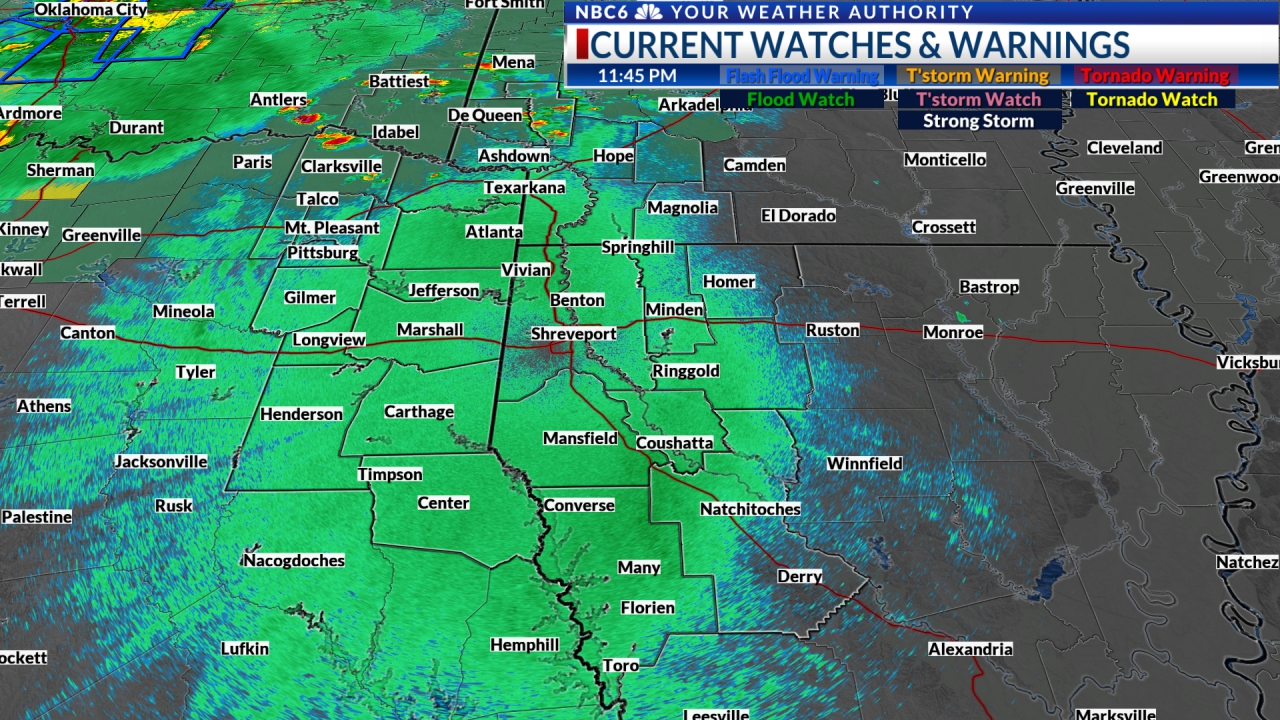 A line of severe storms produced at least one possible tornado in Red River Parish Tuesday afternoon and knocked out power to more than 2,700 SWEPCO customers Caddo Parish, most of them in South Shreveport.
"Light debris" was reported by authorities in Bienville Parish and about a dozen trees were downed along Hwy 71 just north of Crossroads and just south of the Bossier Parish line in Red River Parish. There were no reports of damage in Bossier Parish after radar indicated signs of possible rotation there late Tuesday afternoon.
---
Thursday sunshine leads to more severe weather Friday
Sunshine has returned to most of the ArkLaTex Wednesday afternoon. That sunshine will likely stick around through Thursday. It will combine with a breezy westerly wind to create a big warm-up. Lows Thursday morning will be in the low to middle 50s. Daytime highs will soar into the low to middle 80s.
We could be in for another outbreak of severe storms late Friday and Friday night.  Models show that instability Friday could be higher than what we have had in place today.  As you can see below, the Storm Prediction Center indicates that we have a 'slight' severe weather risk.  I wouldn't be shocked to see that upgraded to 'enhanced' or higher before Friday gets here.  Unfortunately, it is possible that Friday's storms could come during the night.  Since all severe weather threats including tornadoes will be possible, make sure that you are prepared in case the storms arrive while you are sleeping.
Sunshine will return for the weekend with the above-normal temperatures continuing. Lows this weekend will be in the 50s and 60s. Daytime highs will be in the lower 80s. Another cold front will follow early next week. Fortunately, it appears that the best upper-level support will be well to our north and instability should be rather limited. Consequently, I don't expect much of a severe weather threat at this time. Cooler air will return behind this front. Highs next week will retreat to the upper 60s to low 70s by the end of the week. Overnight lows will dip into the upper 40s to lower 50s.
–Todd Warren